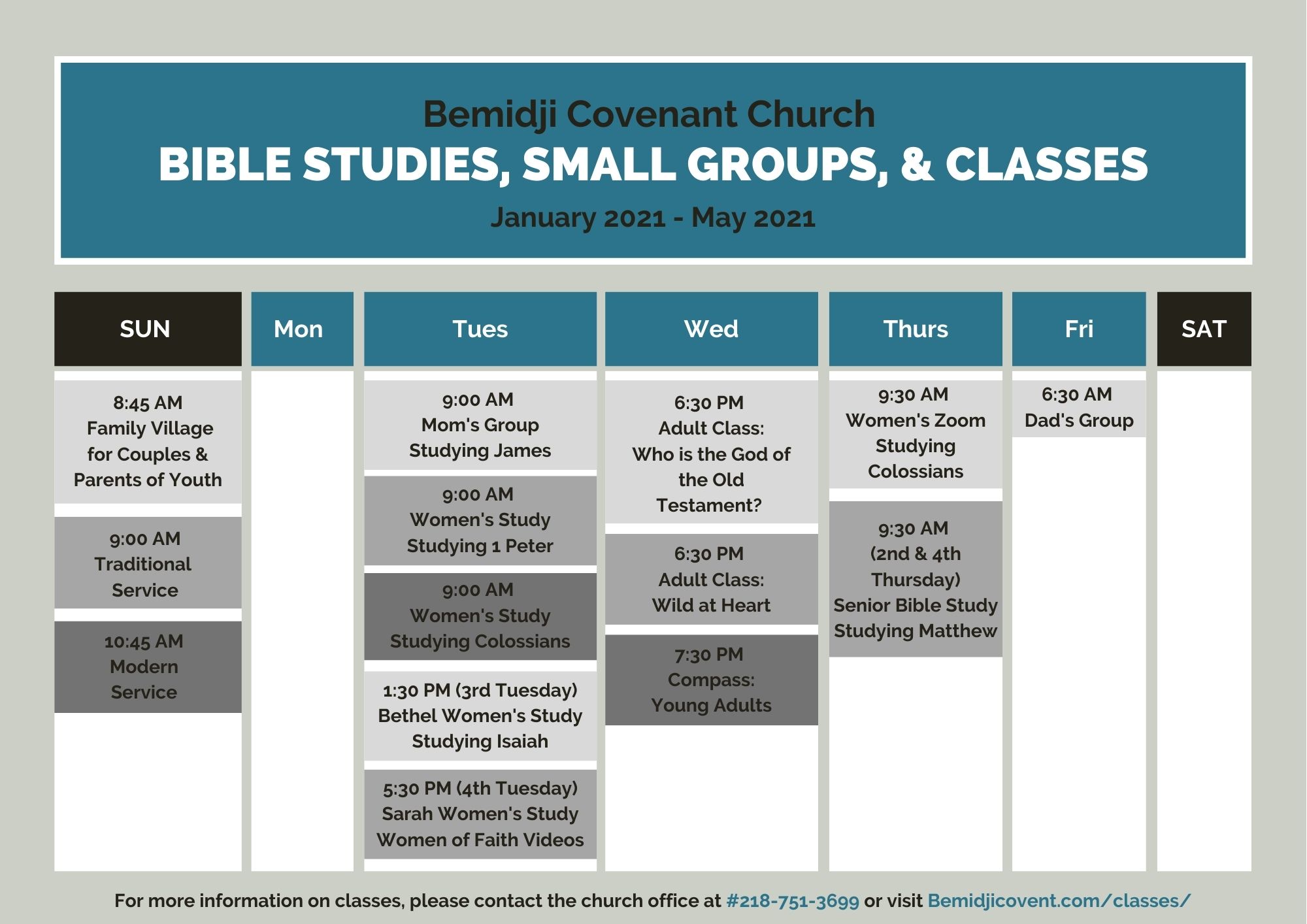 Tuesday Mom's Group - James
January 12th - May: 9:00 am
Contact: Kari Termont, #218-368-6148
This group is open to all women and child care is available! We are studying the book of James this year with a book from Jen Wilkin.
Tuesday Women's Study - 1 Peter 
January 12th - May 12th: 9:00 am
Contact: Kathy Quamme or Celeste Skogerboe, #210-444-7775
This group will study 1 Peter, A Living Hope in Christ by Jen Wilkin. The focus is God-discovery and loving God with your heart and mind. This study uses a DVD and a study guide!
Tuesday Women's Study
January 12th - May 12th: 9:00 am
Contact: Barb Hall, bjhall@hotmail.com
This women's bible study will be diving into the book of Colossians!
Thursday Women's Study - Zoom
January 14th - February 4th : 9:30 am
Contact: Maura Johnson, mjohnson@paulbunyan.net
This 4 week study beginning January 14th at 9:30 am will cover 1 chapter of Colossians each week. A weekly study guide will be emailed to participants who will  be asked to read the chapter, complete the study guide and participate in Zoom discussions. We will discuss and learn together. In Colossians, Paul focuses on the nature of Jesus as creator, redeemer and the visible image of God to counter some false teaching in the area of Colossae. He explains how our faith in Jesus should transform relationships in every area of our lives.
Friday Dad's Group
January 15th - May 14th: 6:30 am
Contact: Doug Giese, Doug@bemidjicovenant.com
The purpose of this group is to strengthen men's relationships with God & family.
Other Small Groups & Studies
Bethel Women's Study
September 22nd - May, 3rd Tuesday of the Month @ 1:30 pm
Contacts: Wilma Palm, Carol Persons, &
Harriet Tesch, #218-444-8053
This year we are doing the book of Isaiah. We welcome new members & would love to have you join us. Each lesson is followed by a time of fellowship and dessert.
Sarah Women's Study
September 22nd - May, 4th Tuesday of the Month @ 5:30 pm
Contact: Laura Woolliscroft, #218-686-6909
This group will be exploring the Women of Faith videos. We will watch the video together and have discussion. Coffee and treats will be served!
Senior Adult Bible Study
2nd & 4th Thursday of the Month @ 9:30 am
Contact: Mark Hovestol, mhovestol1@yahoo.com
The gospel of Matthew is a book primarily written to an audience of  Jewish people.  By studying this gospel, we will gain a deeper understanding of Jesus' message set in the context of the Old Testament.  Come and join us for this in depth study of this insightful book.  It will change your life!
Family Village for Couples & Parents of Youth
January 10th - May: 8:45 – 10:00 in the Gym
Contact: Doug Giese, Doug@bemidjicovenant.com
Learn together! Through Bible studies, topical studies, parenting & marriage enrichment topics you will be encouraged and inspired along in your faith, marriage & parenting journey. Care for each other! Weekly prayer requests are shared. Care is initiated for each other! Serve together! As needs arise, plans are made to serve together. Fun together! Potlucks, camping events and evenings out are just a few activities that are planned by this group. Come to the Gym and meet new friends! No class on Nov. 29th.
Adult Romans Bible Study
Sundays at 10:45 | Starting on April 18th! 
Contact: Eric Graham, #218586-2927
Join Eric after first service on Sunday mornings for this new bible study! This study will cover Romans chapters 5-9. 
Who is the God of the Old Testament?
Wednesdays at 6:30 In The Cafe
Contact: Gale Struthers, galestruthers@oakhills.edu
This class will examine God's character as portrayed in the Old Testament.  We will begin in Genesis and work our way through the Old Testament looking at various events and passages which provide insight into who God is.  We will look at the "difficult" passages in which God seems to be cruel and unjust.  As we wrestle with God's character we will gain a deeper appreciation of who God is.
Wild at Heart
Wednesdays at 6:30 In The Seminar Room
Contact: Scott Nyegaard, scottessin71@gmail.com
"Wild at Heart" by John Eldredge is a book aimed to help men rediscover their masculine self with guidance from the Bible. The book also invites women to discover the secret of a man's soul and to delight in the strength and wildness men were created to offer.  Our passion is to connect God's design of man and impact today's world, church, and daily life.