Traditional Service 9:00 AM | Modern Service 10:45 AM
Online Service this Sunday
We are streaming our services online at 10 am Sunday mornings.
Spiritual Growth Campaign
We are so excited to announce that we will be starting a 6 week church wide Spiritual Growth Campaign titled, "True Spirituality." This spiritual growth campaign will be an opportunity for our whole church family to focus on true spirituality at three levels: personal devotions, small group discussions and Sunday morning emphasis. Romans 12 addresses becoming stagnant in your spiritual growth, disengaged with your church experience, or if you are a new Christian and unsure how to grow or if you are a mature Christian and are looking for a pathway to disciple others. This study will be a starting point toward becoming more like Jesus and the life He calls us to live. I look forward to starting this journey of a lifetime with you!
Janitorial and Facility Manager : Full-Time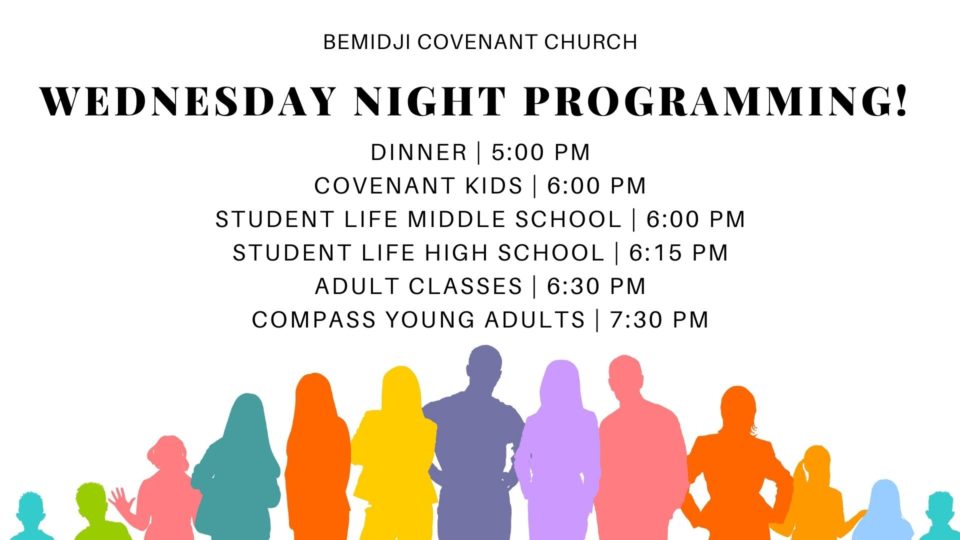 9:00am - TRADITIONAL
10:45am - MODERN
5:00pm - DINNER
6:00pm -  PROGRAMS
7:30pm -  COMPASS
We love first-time guests! But we know that going to a new church for the first time can be rather intimidating. We've provide some basic information to help you out.
Sign up for our newsletter.
Bemidji Covenant welcomes you!
Welcome to The Covenant! "You have made us for yourself, O Lord, and our heart is restless until it rests in you."  These words of St. Augustine, written in the 4th century, capture our hope for our church.  A home for the spiritually homeless. Everything we do, from our worship services to our ministries, is built on the desire to help you find your home in the heart of God. If your questions, aren't answered on our website, please call for more help. Hope to see you soon!